Bell Memorials Offers

Quality granite monuments in a range of colors and styles at reasonable prices.
Vases, in-house etching, porcelain photos. cemetery lettering, stone repairs, and monument restoration.
A large indoor display of 100% guaranteed monuments and markers.
Sales representatives that are available for in-home consultation.
The only monument company to be invited to be a member of the American Institute of Commemorative Art (AICA), "an association of memorial designers and craftsmen from throughout the United States and Canada who are devoted to the highest standards of commemorative memorial design and business ethics in the monument industry."
Styles
Our precision, computer-driven etching allows us to create an almost infinite array of designs. From photographs to hand-drawn designs, we can create a memorial that is personal and represents special qualities of personality of your loved one.
Here are some examples. we can work with you in creating that special memorial.
religious. . .
occupations . . .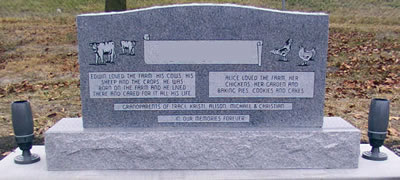 farms and ranch images . . .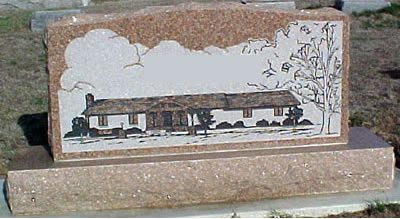 the homestead . . .
familiar farm buildings . . .
anniversaries . . .
special construction elements . . .
unique structure designs.