Bell Memorials Offers

Quality granite monuments in a range of colors and styles at reasonable prices.
Vases, in-house etching, porcelain photos. cemetery lettering, stone repairs, and monument restoration.
A large indoor display of 100% guaranteed monuments and markers.
Sales representatives that are available for in-home consultation.
The only monument company to be invited to be a member of the American Institute of Commemorative Art (AICA), "an association of memorial designers and craftsmen from throughout the United States and Canada who are devoted to the highest standards of commemorative memorial design and business ethics in the monument industry."
Pricing
Hand-crafted grantite memorials are not mass produced. Each memorial is created according to your wishes, and can be done in a wide variety of styles and designs.
This means we cannot offer a simple pricing. Each memorial is personalized to what you want, all in-house. This personalized service, in our studio or in your home, is what sets Bell Memorials apart.
Consider just some examples below: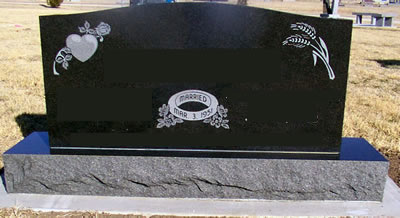 We can add anniversaries . . .
images from the farm or ranch . . .
farm tools . . .
favorite hobbies . . .
and personal joys.
The options for imaging are almost endless. Check our style section for more.
Please call us for a personal consultation on what you want. We can make it a reality that will live for generations.